Electronic aspirator blowers can be a very effective tool for cleaning and sucking up unwanted particles of dirt, fluid, etc. A good blower does not only save time, but it saves you from a lot of efforts. With a good aspirator blower, you can easily clean difficult to reach areas of your electronic devices, appliances, floor or carpet. That's where the Ingco Blower AB4018 comes to play.
The Ingco AB4018 is a 400-watt aspirator blower. It needs 220-240 volt electric supply to run it. The same blower comes with a different model, UAB4018, which can be run using 110-volt electricity. AB4018 features a maximum blowing rate of 3.0 cubic meter per minute.
What's in the box
The Ingco AB4018 comes in a colorful and compact box. The box contains the blower, blowing pipe (nozzle), dust bag, and a user manual.
Design and features
Ingco AB4018 or UAB4018 comes fully assembled and ready to be used out of the box. You just need to attach the right nozzle to the blast or suction port.
AB4018 features streamline built and design. Despite its weight, which is 1.45 kilograms. it feels easy to hold and operate. Also, every little part of it looks and feels sturdy.
However, compared to its overall build quality, the blast port notches didn't feel as sturdy. We would not recommend applying too much pressure to the notches when attaching the blower pipe. Its trigger button is solid and makes a comforting click sound when it is pushed. AB4018 has a Lock-on or variable Speed Knob for adjusting speed requirement.
Ingco blower AB4018 has replaceable carbon brush. In order to replace the carbon brushes, you need to remove the carbon brush holder cap using a screwdriver. The carbon brush holder cap is located at the right side of the handle. According to the manufacturer's website and the accompanying user-manual, you need to check the carbon brushes regularly and replace them when they ware out. To use it for suction, you need to attach the nozzle to its suction port located on the right and the dust bag to its blast port.
Ingco AB4018 has a maximum blowing rate of 3-cubic-meter per minute. Its no-load rotation speed is 14000 per minute. According to IEC-60745 the sound pressure and sound power level are 90 dB and 100 dB respectively. Its power cable is 2 meters in length.
On the whole, Ingco AB4018 blower has an impressive design and excellent build quality.
Performance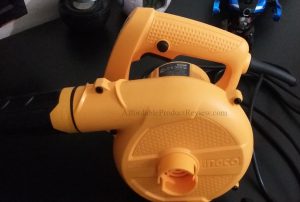 As we powered on Ingco AB4018 and pressed the trigger, the first positive thing that caught our attention is that it didn't make so much noise as many other blowers of its class make. Also, unlike other blowers, the air it blew wasn't hot. The air didn't smell odd either (like motor overheating or burning coil burning).
This Ingco Blower's blowing speed and power was more than satisfactory. We pointed the nozzle at our BATMAN mouse that weighs around 150 grams including two AA batteries. As we pressed the trigger, the mouse went out of the desk. It also moved a Bugatti Veyron Transformer toy car out of the desk in seconds. As for dust particles, they didn't exist there anymore.
We tested the Ingco AB4018 for its suction ability too. We had spicy gram on our desk. Ingco sucked all of it within a few seconds. You might like to watch our video review of the Ingco Blower AB4018 to get a full idea about its performance.
| | |
| --- | --- |
| Pros | Cons |
| Attractive, well-built, durable, affordable. Reliable blowing ability. Less noisy. | Though not flimsy, the notches on the blast and suction ports are not as sturdy as expected. Lacks in suction ability. |
Conclusion
Ingco Blower AB4018 is a well-designed, durable and reliable. It does what it is built for, and it does it well. However, as does lack in its suction ability. However, in terms of performance, durability, and price, this is one of the best blowers in its class. We highly recommend Ingco AB4018 blower for home and office cleaning needs. We gladly award it a 4.5-star rating.
Specifications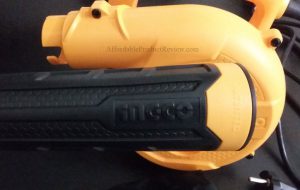 Model: Ingco AB4018/UAB4018 Aspirator Blower
Wattage: 400 Watts
Rated voltage: 220-240V 50/60Hz / 110-120V 60Hz
Blowing rate: 3.0 cubic meter/min
No-Load Speed: 14000/min
Sound Pressure Level: 90 dB
Sound Power Level: 100 dB