Miyako may not be such a household name, but some of Miyako's products are definitely worth trying. For instance, the Miyako blender YT-4677A-S. It's a 1.5-liter 600-watt multi-function electric blender, which can be used for blending, grinding, and crushing.
What's in the box
Miyako YT-4677A-S electronic blender base part, three different jars with handles, and a user manual.
Design and Features
Miyako blender YT-4677A-S features a streamlined design. It has a nice look, finish and feel about it. All its jars are made of rust-proof stainless steel. They feature flow-breaker design (little bends in the jar that are supposed to improve the overall quality of blending, grinding and crushing). Both the jar and the base have metal gears. Miyako YT-4677A-S blender features three different blades for blending, grinding and crushing. The jars feel durable and have sturdy handles attached to them. Each jar comes with a spill-proof lid that is made of transparent plastic so you can see the progress of blending, grinding or crushing.
The base part features a copper motor and it is temperature controlled. If you turn the base part over, you will see a big fan there. It produces a lot of air to cool the motor down. It is safe to say that Miyako has taken a lot of care to make sure that the blender lasts years of use. The base part also has two-speed controls and a press and hold function for your desired blending, grinding, or crushing choice.
On the downside, the blender is only 600 Watts. According to kitchen experts, higher wattage is very important for good crushing and grinding experiences. The design of blades plays a big role there too. If you buy an 800-Watt electric blender with poorly designed blades, it will perform poorly than expected. Miyako YT-4677A-S blender implements modern blade design that is supposed to be more effective. But the wattage is low, which means it may not be able to deliver the best grinding and crushing experience. Let's see how it actually performs in the real world.
Performance
Like any other typical blender, Miyako blender YT-4677A-S outputs an annoying noise regardless of whether the jar is empty or filled. But a noisy blender can have its usefulness sometimes, for instance, you can wake your sleepy husband and children just by making glasses of fresh juices for them in the morning. Besides, quiet blenders don't come at any less than 20 times higher the price.
Miyako YT-4677A-S did a good job in producing fine pests of onion, garlic, ginger, and dry pepper. We also made two glasses of mango milkshake using the blender. It did a nice job with that. The shake tasted good too. However, when we tried making cinnamon, cumin and coriander powder, the blender couldn't produce a fine powder of any of the three spices. Also, it took considerably more time producing even a satisfactory result. You may want to check our video review on the performance of Miyako YT-4677A-S below.
Miyako YT-4677A-S was able to produce a coarse powder of cinnamon, cumin, and coriander. We tried to grind each for a longer time, but it didn't give any better result. Also, we found the coarse powder to have accumulated slight moisture after the grinding. About which, our female colleague said that we should have heated the cumin and coriander before grinding so to get rid of any moisture. She also suggested that doing so might have produced a less coarse powder of the spices. We are yet to verify that, but as soon as we do, we'll update this review.
On the positive side, the lids fit smoothly to the jars. Also, they were spill-proof. We didn't have to put pressure on them to keep them in their place. The jars didn't need any pressure to hold them to the base either, but it is recommended to do so for safety. The base part doesn't get hot even after continuous use.
| | |
| --- | --- |
| Pros | Cons |
| Affordable, elegant look, excellent build, metal gears, stainless steel jars, spill-proof transparent lids. | Can't produce a fine powder of dry spices such as cumin, cinnamon, coriander etc. Noisy. |
Conclusion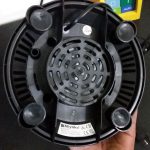 For an electric blender priced under $40, YT-4677A-S looks expensive and elegant. It is durable too. When it comes to performance, it is good at blending but not as good at crushing or grinding. Miyako blender YT-4677A-S may not be the best blender or grinder on the market, but it's worth giving a try. We give it a 3.5-star rating.
Specifications
Model: Miyako YT-4677A-S blender
Wattage: 600 Watts (220 -240 V)
Operations: Blending, Grinding, Crushing
Jars: 3 (different blade for each jar).
Stainless steel jars, metal Gear, transparent lead
Copper motor with temperature control
Two speed and hold and release control