If you are looking for an affordable processor that serves for most of the modern computing needs, then Intel Pentium G620 could be a good choice. G620 is a 2.6 GHz dual-core processor with 3MB cache. It is the 2nd generation dual-core processor with LGA1155 socket. The latest Intel processors (such as Core i7) are built for the LGA1155 socket. All motherboards that support LGA1155 processors will support G620. So, if you are running low on cash, then you can buy G620 and later switch to Intel core i7 without changing your motherboard. It sports Intel HD Graphics, which means you can enjoy full HD graphics, media, and video on your large LCD or LED monitor without buying a dedicated graphics card.
Performance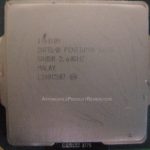 The 2nd (final) generation dual-core G620 processor has the power to run most software of 2012. Windows 7, Microsoft word 2010, Adobe CS5 and similar software open in a glimpse. G620 has the ability to copying, moving a large amount of data at more speed. It features the Smart Cache Technology that speeds up most operations significantly. It supports two-channel DDR3 memory.
However, G620 processor may not be enough when it comes to hardcore gaming. We played Darksiders, NFS Hot Pursuit (2011), Fallout 2, Crysis, and similar other graphics intensive games with the configuration listed on "How to build a custom entertainment desktop at $699". But when we tried the latest games such as Diablo 3, Mass Effect 3, The Run, frame rate turned very low even with a moderately good graphics card such as ATI Radeon 6450.
So, if you are into hardcore gaming, G620 may not be the best choice in the market. Otherwise, G620 meets most other software requirements with or without the need of an additional graphics card.
| | |
| --- | --- |
| Pros | Cons |
| Affordable 2nd generation Intel Pentium dual-core processor, 2.66 GHz speed, 3 MB cache, latest technology LGA1155, Intel HD Graphics. | Not the perfect processor for playing the latest graphics intense games. |
Conclusion
Intel Pentium dual-core G620 is a quiet processor with a big round heatsink and fan. It is built with LGA1155 socket technology. On Windows 7, G620 is rated 6.3 based on its calculation ability per second. G620 is certainly not the best processor in the market. However, G620 is the best CPU under $70.